BEAVER IS BETTER; IT'S JUST THAT SIMPLE.
Scroll to browse our delicious range of treats
*While we offer vegan or gluten-free menu options, we do not have a vegan or gluten-free kitchen. Cross-contamination could occur and we are unable to guarantee that any item can be completely free of allergens (nuts, milk or milk products, eggs, wheat, soy, and/or tropical oils, etc.). We ask that you use your own discretion when consuming our products. Please consult with your health care practitioner before consuming any food or drink. Furthermore, we cannot certify that any of these products are Gluten-free or Vegan and the aforementioned list is subject to change at any time based on changes in our recipes and/or suppliers.
Products with are available for vegan options. Please let us know that you want vegan option when you make an order.
THE CLASSIC
A sprinkle of cinnamon & sugar
HAZEL AMOUR
Chocolate hazelnut spread with a dusting of icing sugar
PECAN PIE
Maple flavoured spread and pecan pieces, with a swirl of chocolate sauce
APPLE PIE
Apple pie filling with whole apple slices, caramel sauce, and crumble
AVALANCHE
Cheesecake spread, Skor® bits, and caramel sauce
TRIPLE TRIP
Chocolate hazelnut spread, peanut butter, and Reese's Pieces®
COCO VANIL'
Vanilla icing, crushed Oreo® cookies, and chocolate sauce
BANANARAMA
Chocolate hazelnut spread and banana slices
KILLALOE SUNRISE
Cinnamon, sugar, and a slice of lemon
BRWOWNIE
Chocolate hazelnut spread, brownie pieces, and white chocolate chunks
S'MORE
Chocolate hazelnut spread, Graham cracker crumbs, and torched marshmallows
HANSEL + PRETZEL
Chocolate hazelnut spread and pretzels
LEMON MMMERINGUE
Lemon pie filling and toasted marshmallow fluff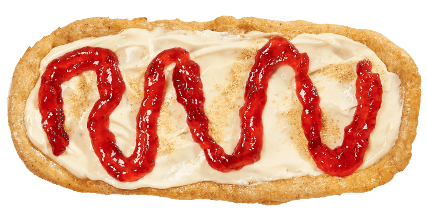 STRAWBERRY CHEESECAKE
Cheesecake spread, strawberry jam, and Graham cracker crumbs
The SKOR and REESE'S PIECES trademarks and trade dress (inclusive of orange color) are used under license.
FRAPP-EH
Frosty and creamy orange-vanilla frappé
SMOOTHIES
Made with organic orange juice or natural lemonade and ½ lb of real fruit
STRAWBERRY LEMOOOONADE
Refreshing strawberry and lemonade iced beverage
HOT CHOCOLATE
Our signature rich and creamy hot chocolate
POUTINE
Fries topped with authentic Quebec cheese curds and a decadent gravy
FRIES
Triple threat: perfectly crispy, straight-cut, golden-brown fries
BEAVERDOG
Nathan's® all-beef hot dog wrapped in our signature pastry
POUTAIL
Signature poutine served on top of a BeaverTails pastry
The best of both worlds: BeaverTails bites topped with our premium frozen delights
SCOOPED
Your choice of gelato, frozen yogurt, or ice cream
SOFT
Chocolate or vanilla soft serve ice cream
Allergens will vary based on flavour and any additional custom toppings.
CONE
Ice-cream, frozen yogurt, sorbet, or soft serve
CUP
Ice-cream, frozen yogurt, sorbet, or soft serve
Allergens will vary based on flavour and any additional custom toppings.
ALLERGEN INFORMATION
Moozoo frozen treats and BeaverTails® products may contain or may have been in contact the following allergens:
BEAVERTAILS and the BeaverTails logo are trademarks owned by BeaverTails Brands Inc., used under license.
Read about our Trademark Use. BeaverTails® is proud to offer Moozoo® products in selected stores.
© BeaverTails. 2018 All rights reserved.